Metal Hotend
420° Hotend
High Precision
Metal Chassis
Large BuildSize
Outage Saving
Filament Checking
BuildTak Platform
Touch Screen
Linear Guide
Precise Feeder
Fully Enclosed
Auto Leveling Pro
Hot Air Chamber Pro
Filaments Drying Pro
The D600 was created since year of 2016, Its fully enclosed print volume 600*600*600mm is able to make industrial prototype large-scale objects as easy as possible. We upgrade it twice every year with CreatBot's most advanced technology. If you want to print large models with PLA, ABS, PETG, Carbon fiber, the D600 will be good.
The D600 Pro version was deep developed in year of 2018, It is able to 3D print large size objects with high performance material for industrial application directly. Besides D600 materials, Carbon fiber mixing, Nylon, PC, etc are enhanced options. If you are looking for a very professional industrial 3D printer with large-scale, D600 Pro will be your best choice.
The D600/Pro works perfectly in automotive or aerospace industries, as well as art design, products design, cultural relics reproduction or concept modelling. It brings the large-scale additive manufacturing on more affordable level in prototyping or designing.
CreatBot D600 Pro 3D Printed Air Intake With High Temp. Nylon AlloyStory July 7, 2019
Bruce Warren apparently wasn't happy with setting a world record once, so he beat his own record today in his Cadillac CTS-V. His blistering 192.2 mph(309.3km/h) marks the new world record for a stock blower CTS-V & CTS-V Sedan.
The CTS-V equiped with a 3D printed intake made by justin Taylor, a top engineer for modified custom car parts. He can do everything with his CreatBot D600 Pro 3D printers.
«My 3D printed intake just broke a world record for the fastest CTS-V half mile.
Also in September we will be headed to Texas to break the mile record for the CTS-V as well. Which is great because my intake will be on the car. I also have one that will be going out next week to a car that should break the 1/4 mile record. All with a 3D printed air intake made on your machines!! Going to be taking over this industry as I am already working on a ZL1 camaro version.
All of these cars have your intake and have been holding up great! People love the quality of the 3D printing!»
—-justin taylor
D600 Pro Printing Video
Large Build Volume
D600 / D600 Pro print size 600*600*600mm.
In the photo, we can see part of large format 3D printer quality inspection area. Mass production means standard high quality.
(Learn more about the huge 3d printer F1000 in center of the photo)
---
Temprature Up To 420 ℃
D600 and D600 Pro equiped with the 4th generation dual extruders and hotends. The left extruder equipped with 260°C hotend, It is able to print with PLA, ABS, PC, Nylon, Carbon fiber, Flexible, etc. The right extruder 420°C hotend is made of martensite steel, which is able to print high performance materials. The dual hotend is replaceable, which provide more possibility on your application. All Metal Hotend
more durable 420 ℃ Support
More Supplies Nozzle Height
Adjustable Direct Head
Driving
---
The wheel hub weighs 6kg, printed by D600 Pro !
High Precision
We exclusively research and develop the extruder feeding system support high-speed printing, and accuracy can reach high to 0.05mm, it allows to extrude filament steady without block.
Precision up to: 0.05 mm
Speed up to: 200 mm/s
---
Stability
The whole-steel body not only ensure the stability when printing but also greatly extend the usage period. the optimization and cooperation of overall structure ensure the sustainable and efficient operation. The first batch of CreatBot 3D printers have been working for 9 years and more than 30,000 hours.
---
Accurate Linear Guide Rail
The accurate linear rail structure can print models in accuracy high reach to 4~5 times higher than the other ordinary optical axis printers in mass market. This structure offers accurate filament feeding, so that can print large model fast and perfectly.
Fully Enclosed Chamber
The fully enclosed chamber can block all external interference. Also this frame can reduce noises, at the same time to provide constant temperature, so that the model won't deform.
---
---
Easy Touch Screen
The printer has a 4.3″ touch screen, more easy to operate. We also provide One-Key to preheat, print, home as well as other shortcut keys.
---
---
---
Hot Air Chamber 70°C
Hot air chamber can provide constant room temperature so that model won't deform when printing.(D600 Pro available only)
---
---
---
Filaments Drying Room
The function is able to dry filaments like Nylon,PC,ABS, which with high water absorption, 45°C and 65°C chamber temperature available.(D600 Pro available only)
---
---
---
Outage Restored & Filament Detection
The printer will automatically memorize the current position and save print data. Lower the platform and withdraw filament when power off suddenly. It will continue to print from the last stopped point after power's on.
The printer will avoid invalid printing by stoping print and warning when filament runs out.

Outage Restored

Filament Detection
---
Efficient Platform
The platform surface is attached with the 3D printing special stickers, and the printer has vertical thermal conductivity so that can support high thermal efficiency. You can set the parameters to turn off the hot bed automatically after the specified number of layers.
---
---
---
Auto Leveling Platform
Use of 25 points through the BL-Touch probe to save the level of platform flatness data at the initial, through the Z axis intelligent compensation table height in the printing process to achieve fully automatic leveling.(D600 Pro available only)
---
---
---
Filament & Application
We supply high quality CreatBot filament. The models below are commissioned by the cultural relics protection organization and printed by D600 with 5kg big roll of PLA within 80 hours. No extra cares or change filament.
---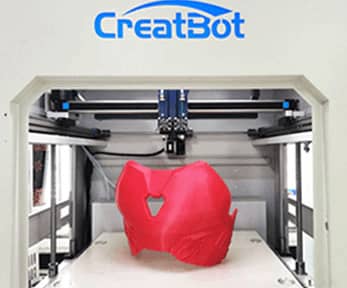 PC prototype 20 hours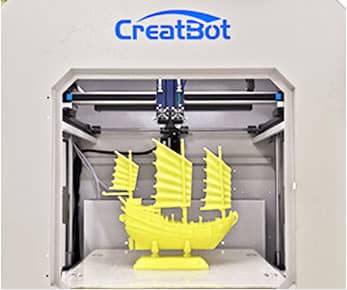 PLA prototype 40 hours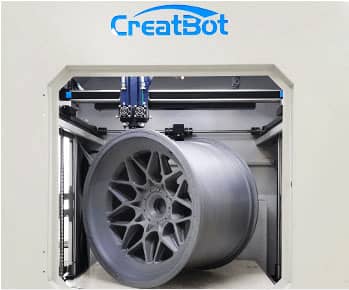 PLA prototype 120 hours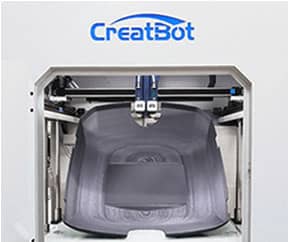 Carbon fiber-Nylon 50 hours

Nylon+ 30 hours
---
---
---
Technical Specs
Printing
Print Technology
Fused Deposition Modeling(FDM)
Build Volume
600*600*600 mm
Number of Nozzles
Double
Resolution
0.05 mm
Layer Resolution
0.05 mm
Filament Diameter
1.75 mm
Filament Compatibility
PLA, ABS, Carbon Fiber, Wood, Nylon, PC, PTEG, HIPS, PP, Flexible, TPU, PVA, etc.
Nozzle Diameter
0.4mm (0.3 0.5 0.6 0.8 1.0mm)
Print File Type
STL, OBJ, AMF, Gcode
Temperature
Ambient Operating Temperature
15 ℃~32 ℃
Max. Nozzle Temperature
420 ℃
Max. Bed Temperature
100 ℃
Max. Chamber Temperature
70 ℃ D600 Pro
Filaments Drying Temperature
45 ℃/65 ℃ D600 Pro
Mechanical
Construction
Power-Coated Steel, Aluminum Casting for Motion Components, POM
Build Plate
Borosilicate glass bed
Build Plate Leveling
Factory Leveled, Adjust Manually Automatic D600 Pro
Extruder
Directly Drive
Stepper Motors
1.8° Step Angle with 1/16 Micro-stepping
X Y Positioning Precision
5.08 μm
Z Positioning Precision
1.25 μm
Speed
Best Printing speed
45 mm/s
Max. Printing speed
120 mm/s
Electrical
Power Requirements
100-240V, 50-60Hz;220-240V, 50-60Hz D600 Pro
Screen
4.3» Touch Screen with Multi-language
Max. Power
1 000 W~4 000 W D600 Pro
Control Chip
ATmega 2560
Storage Media
USB Disk
Connectivity
USB
Software
Software Bundle
CreatWare, Simplify 3D, Cura, Slice 3r, etc
Supported File Types
STL,OBJ,AMF
Operating Systems
Win7/8/10, MacOS
Special Function
Outage Restored
Save data when power is off
Filament Detection
Pause printing when filament run out
Automatic Shut-down
Turn off the power automatically when printing is complete
Size & Weight
Product Dimensions & Weight
915*845*1 085 mm 125 kg
Packing Size & Weight
1 000*1 030*1 360 mm 190 kg(Pallet)
---
NEED HELP DECIDING?
We've put together a comprehensive comparison of our 3D printers, so you can find the one that's right for your needs.
---