CreatBot DE / DE Plus
Metal Hotend 350° Hotend High Precision Metal Chassis Large BuildSize Outage Saving Filament Checking Glass Ceramic Touch Screen Remote Feeding Precise Feeder Triple Extruders
Printing Videos
DX Bearing Printing Video
DX Printing Video
DX Three Head Printing Video
Temperature Up to 350°C
We are the first one to publish 350°C ultra-hight temperature nozzle to mass market and it possess exclusive patent. This kind of nozzle allow to print with a variety of filaments. And the fantasy blue metal cooling sink can efficiently cool down the heatbreak. The nozzle height can also be micro adjusted. And we accept customized for single/double/triple head.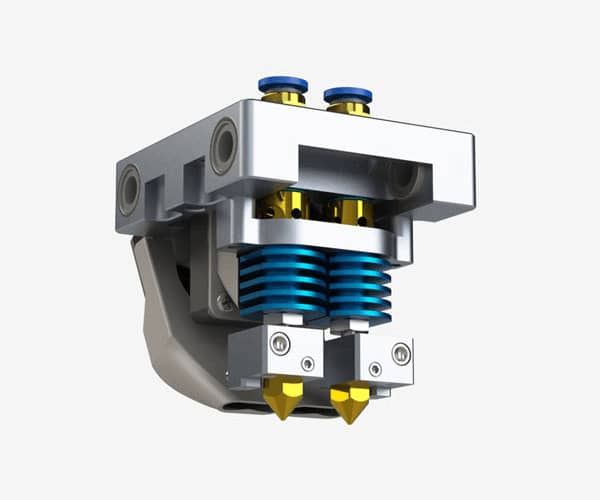 All metal hotend, more durable

350°C support more supplies

Nozzle height adjustable

Supports up to 3 hotend
High Precision
We exclusively research and develop the extruder feeding system support high-speed printing, and accuracy can reach high to 0.05mm, it allows to extrude filament steady without block.
Precision up to:0.05mm Speed up to: 200mm/s
Stability
The whole-steel body not only ensure the stability when printing but alst greatly extend the usage period. the optimization and cooperation of overall structure ensure the sustainable and efficient operation. The first batch of CreatBot 3D printers have been working for 5 years and more than 8000 hours.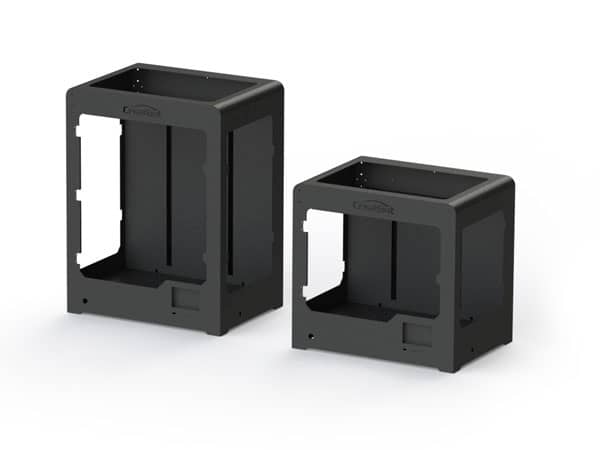 Large Build Size
We provide variety of printing sizes for you reference. The largest build volume is 5 to 20 times bigger than it of other ordinary 3D printers in noadays market.
CreatBot DE build volume: 400*300*300mm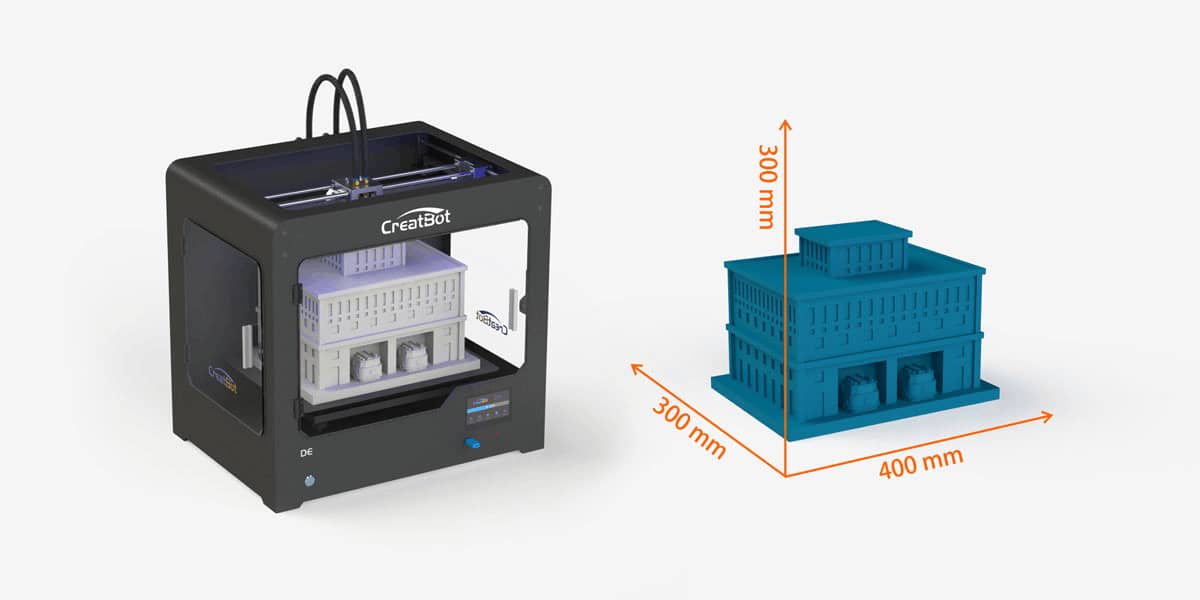 ---
CreatBot DE Plus build volume: 400*300*520mm
---
Outage Restored & Filament Detection
The printer will automatically memorize the current position and save the print data, lower the working platform and withdraw filament when the power off suddenly.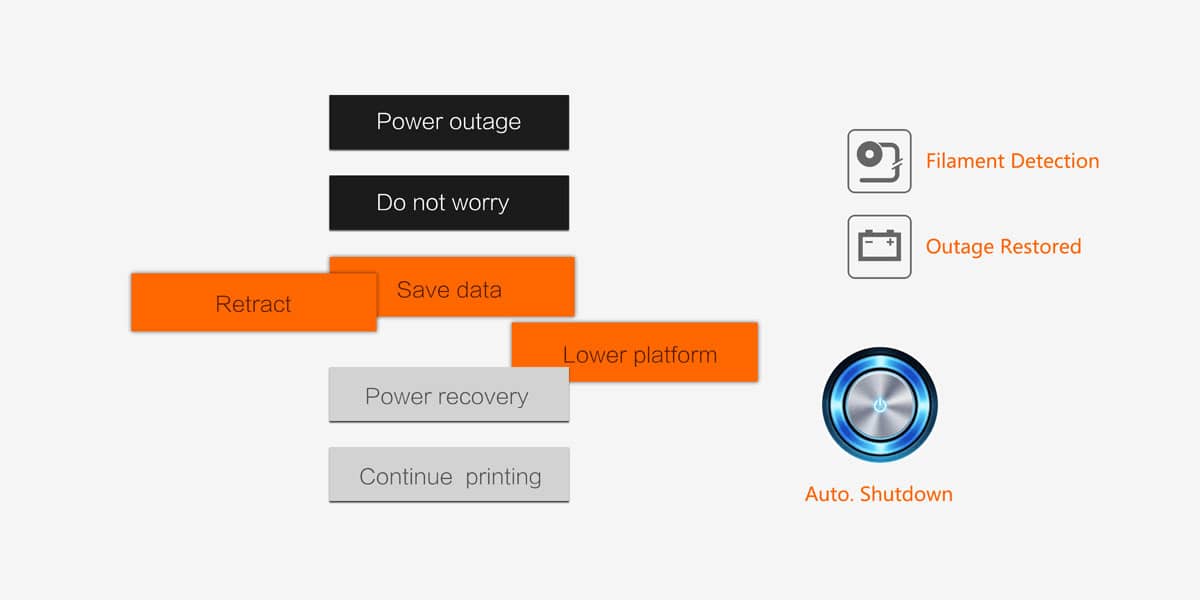 Power Outage Restored Video
Filament Detection Video
Glass Ceramic Platform
The printer has mico-crystal platform so that can support hight thermal efficiency, you can set the parameters to turn off the hot bed automatically after the specified number of layers.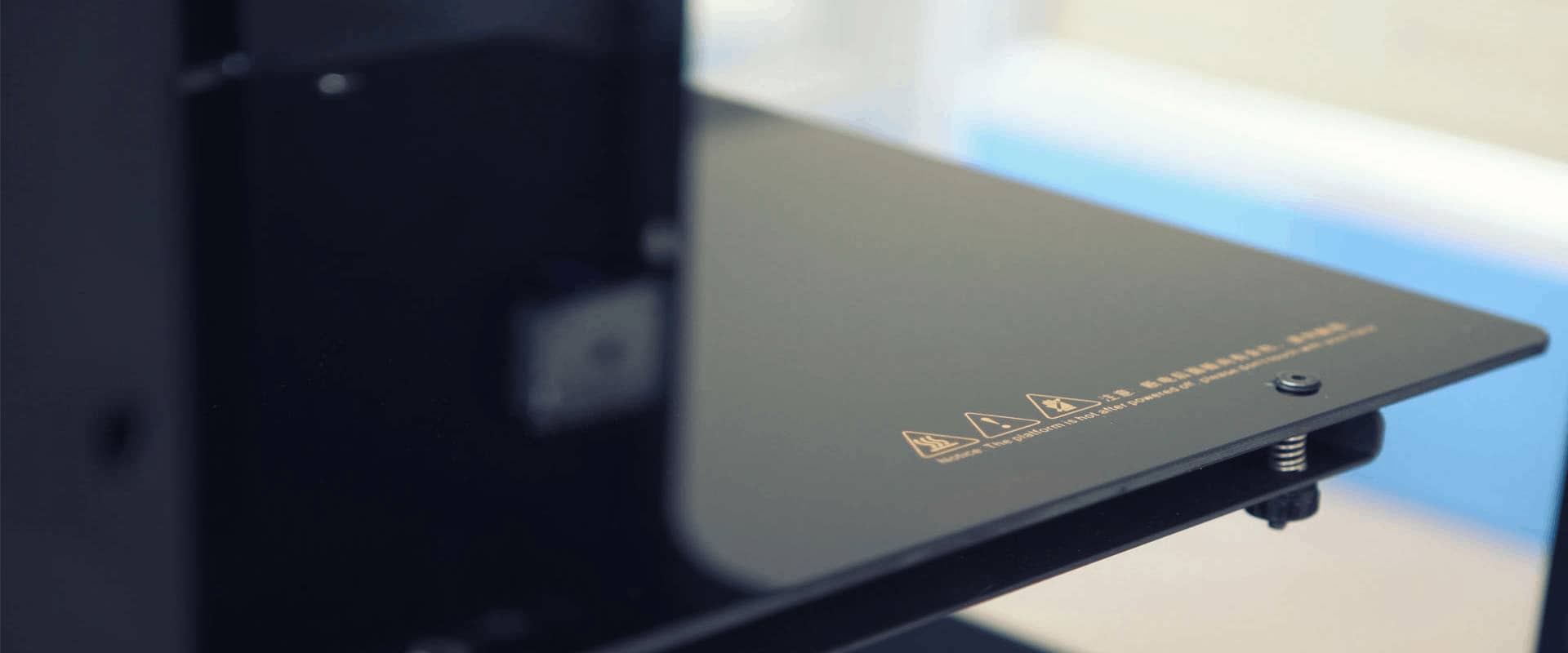 ---
Easy Touch Screen
The printer has a 4.3″ touch screen, more easy to operate. We also provide One-Key to preheat, print, home as well as other shortcut keys.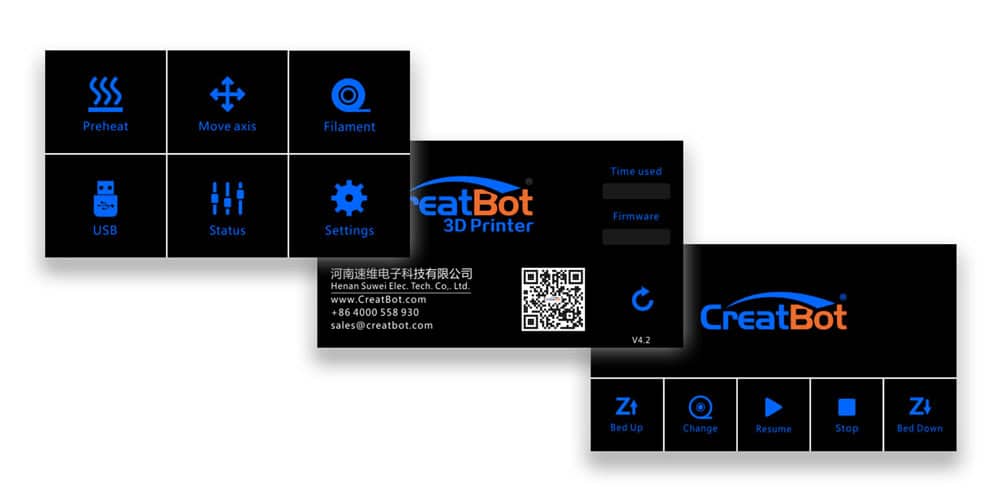 More Features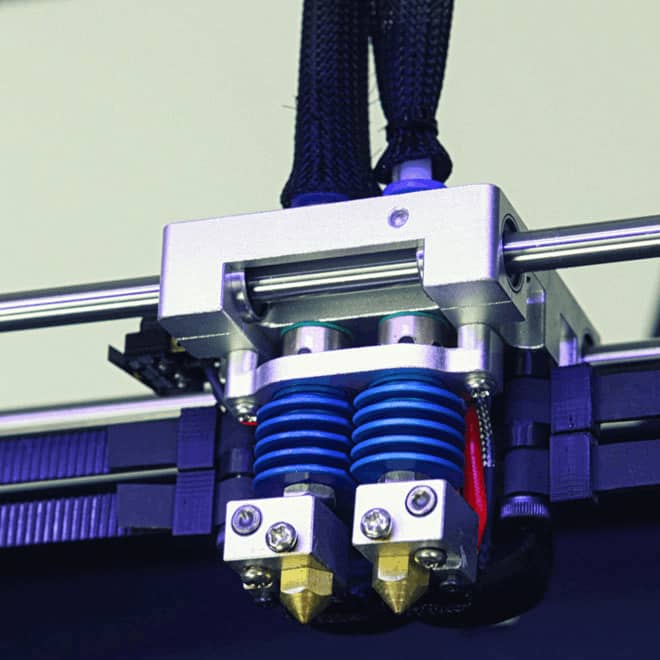 Simple Feeding Frame
The stepper is separated with the hotend, so that the hotend is even lighter, smaller and will has less inertia of movement, also greater space utilization.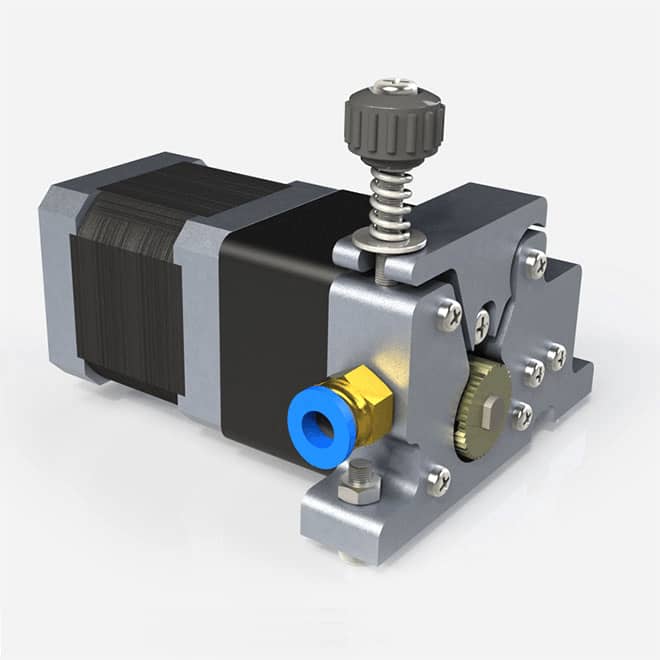 Filament Feeder
Geared motor can reduce speed intelligently and it support super torque so that it can feed filament in high precision without slipping and delay when withdrawing the filament.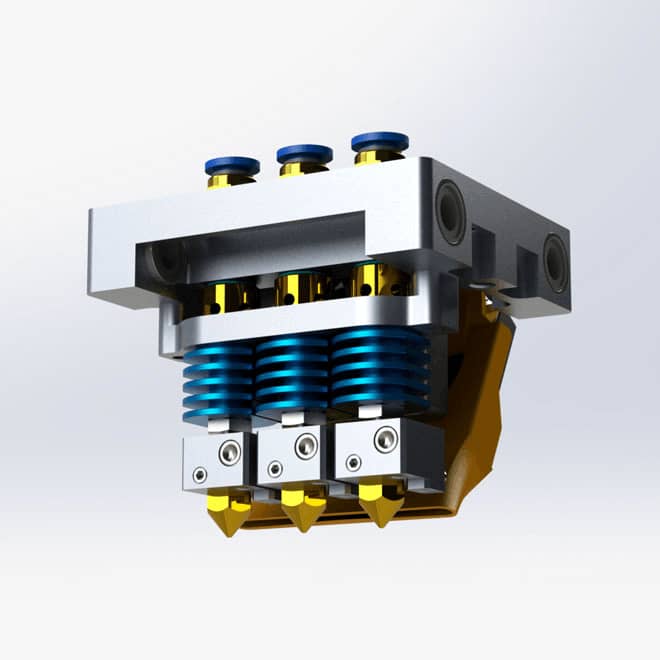 Triple Extrusor
Soporta impresión a 3 colores, soporta impresión por tipo de material.
Datos Técnicos
CreatBot DE Series
Impresión
Tecnología de Impresión:
Modelado por fundido
Volúmen de Construcción:
400*300*300mm (DE)
400*300*520mm (DE Plus)
Número de Boquillas:
Doble (Maximo 3)
Resolución:
0.05mm
Resolución de capas:
0.05mm
Diámetros de Filamentos:
3.0mm (1.75mm optional)
Filamentos:
PLA, ABS, Carbon Fiber, Wood, Nylon, PC, PTEG, HIPS, PP, Flexible, TPU, PVA, etc.
Diámetros de boquilla:
0.4mm (0.3, 0.5, 0.6, 0.8, 1.0mm)
Tipos de archivos impresos:
GCO, GCODE
Temperatura
Temperatura ambiental de trabajo:
15-32°C
Max. Temperatura de boquilla:
350°C
Max. Temperatura del plato base:
100°C
Velocidad
La mejor velocidad de impresión:
45mm/s
Max. velocidad de impresión:
120mm/s
Max. velocidad de trasporte:
200mm/s
Mecánica
Construcción:
Acero recubierto, Aluminio fundido para componentes en movimiento, POM
Plato base:
Plato de Vidrio Cerámico
Nivelación del Plato:
Nivelación de fábrica, Ajuste manual
Extrusor:
Motor con Engranajes (1:10 rate)
Motores paso a paso:
Angulo paso 1.8° con 1/16 Micro-paso

Precisión de Posicionamiento ejes X Y:
12.7 Micrones
Precisión de Posicionamiento eje Z:
1.25 Micrones
Eléctrico
Requerimientos de Energía:
100-240V, 50/60Hz
Max. Potencia:
360W
Pantalla:
LCD 128 * 64 multi-lenguaje
Chip de Control:
ATmega 2560
Almacenamiento:
SD Card
Conectividad:
USB
Software
Programa:
CreatWare Multi-lenguaje
Tipos de Archivo:
STL, OBJ, AMF
Sistemas Operativos:
Windows (7, 8, 10)
Mac OS X
Funciones Especiales
Restauración frente a cortes de corriente:
Guarda los datos de impresión cuando se corta la corriente.
Detección de Filamento:
La impresión es pausada cuando el filamento se agota.
Apagado Automatico:
Se a paga automaticamente cuando el tranajo de impresión termina.
Tamaño & Peso
Dimensiones & Peso:
590*430*560mm 35Kg (DE)
590*430*780mm 42Kg (DE Plus)
Packing Size & Weight:
720*560*670mm 45Kg (DE)
720*560*870mm 55Kg (DE Plus)
Necesita ayuda para decidir?

Click aquí para ver cuadro comparativo de nuestras impresoras 3D para que encuentre la que se ajusta a sus necesidades.